A Classic 1930s Kauai Plantation House at Poipu Beach!
Completely restored Hawaiian plantation home with hardwoods, Kauai art yet in today's air conditioned comfort.  An authentic, traditional, Kauai Inn hosting guests from around the world since 1979. Located on the sunny South shore of Kauai and just around the corner from World Famous Poipu Beach!  Enjoy our 2015 short video  or our full property video tour 2012  Island Getaways TV 
produced before the Inn renovations.

Ideal Location
Situated on a quiet acre of Hawaiian gardens and a short walk from Poipu Beach Park, the best of all Kauai beaches,  Poipu Plantation Resort offers a group of accommodations with air conditioning and best values for Poipu.  The quaint property offers our wonderful bed and breakfast Inn with nine adjacent cottage style vacation rental suites with full kitchen, large decks and many other features. This is an ideal spot for vacations, honeymoons, weddings, family reunions and quiet time away from your busy life. On the small ocean front residential street, our location is close to surfing, swimming, snorkeling, hiking, restaurants, shopping, golf courses, tennis facilities, and so much more. 
Friendly Staff
In the spirit of Aloha, a cheerful and friendly staff is available to answer any questions, and offer directions to hikes, other beaches and all points of interest. If you are looking for Hawaii discount car rentals, Napali boat tours, Zip Line and Kayak adventures, we offer reasonable rates and excellent Aloha service for our guests. We sincerely hope that you will accept our invitation to join our 'Ohana of valued guests and friends who return year after year to enjoy one of the best vacation values in Hawaii.
Book Online and Save Time!
For quick and efficient booking, book your accommodations below.
Great Values
Competative rates, options to fit every budget that all include the same great service with Aloha!  This is an ideal location for walking to the beach or for sunset strolls along the coastline and to see the bright stars at night along our small ocean front street.
Our Accommodations
Pristine, air conditioned, uncluttered bedrooms are decorated Island Style and feature hardwood floors, tropical furnishings and private bathrooms.  Amenities include in suite wireless, ample parking, local phone service, full breakfast and housekeeping included in the nightly rate.  You never pay an extra fee, simply room and tax is all we ask!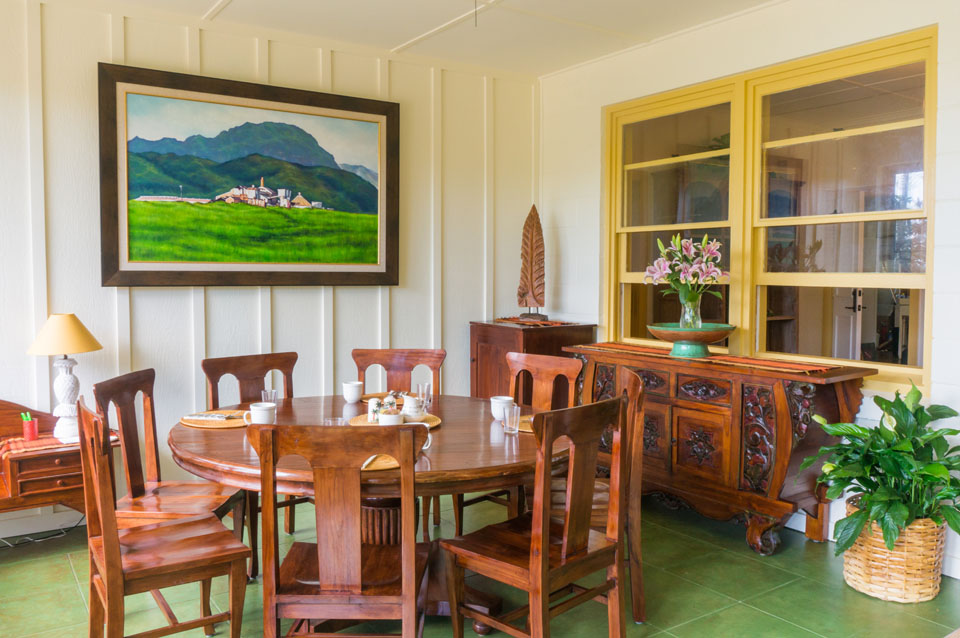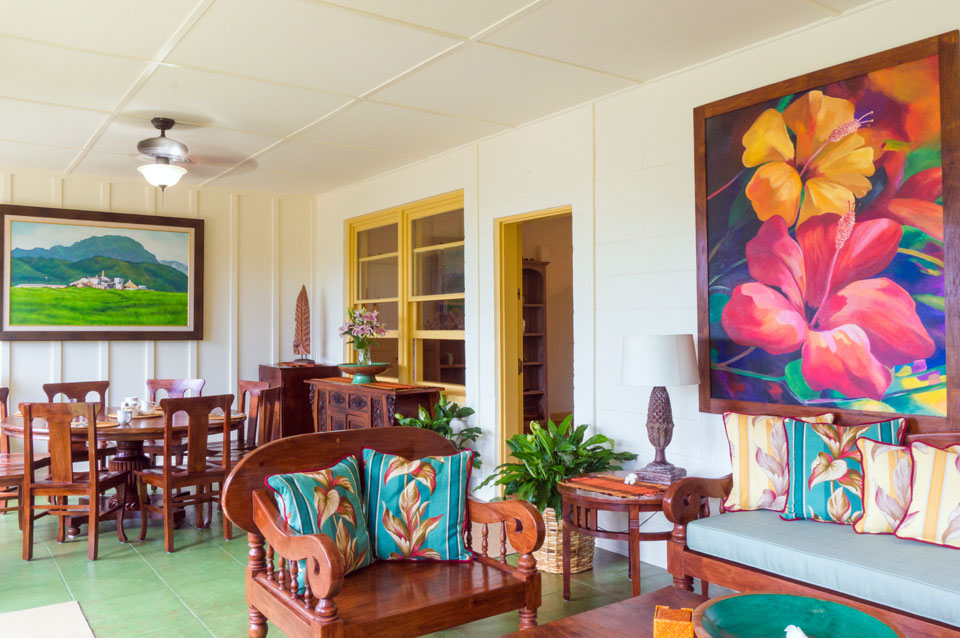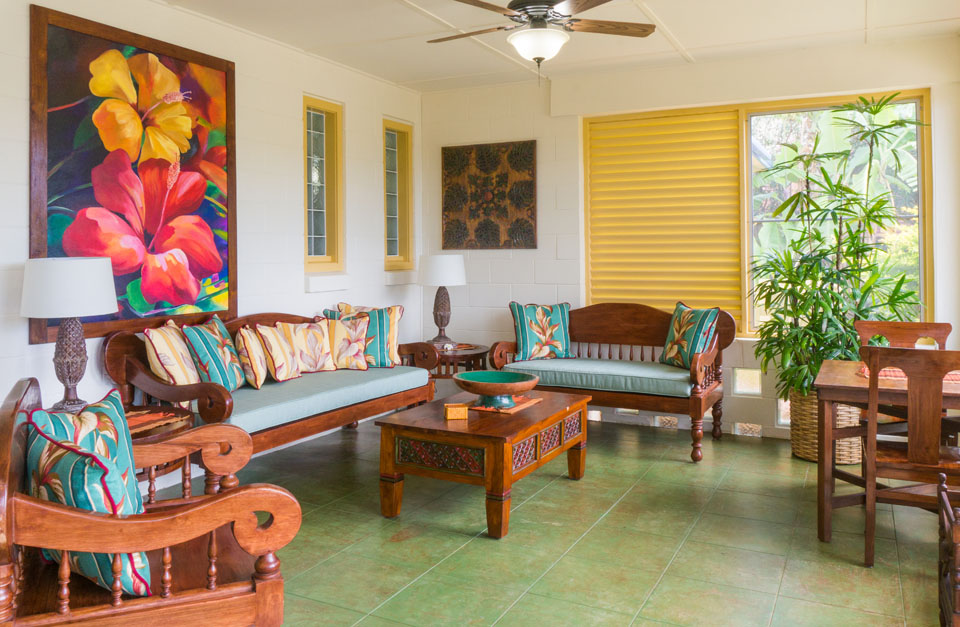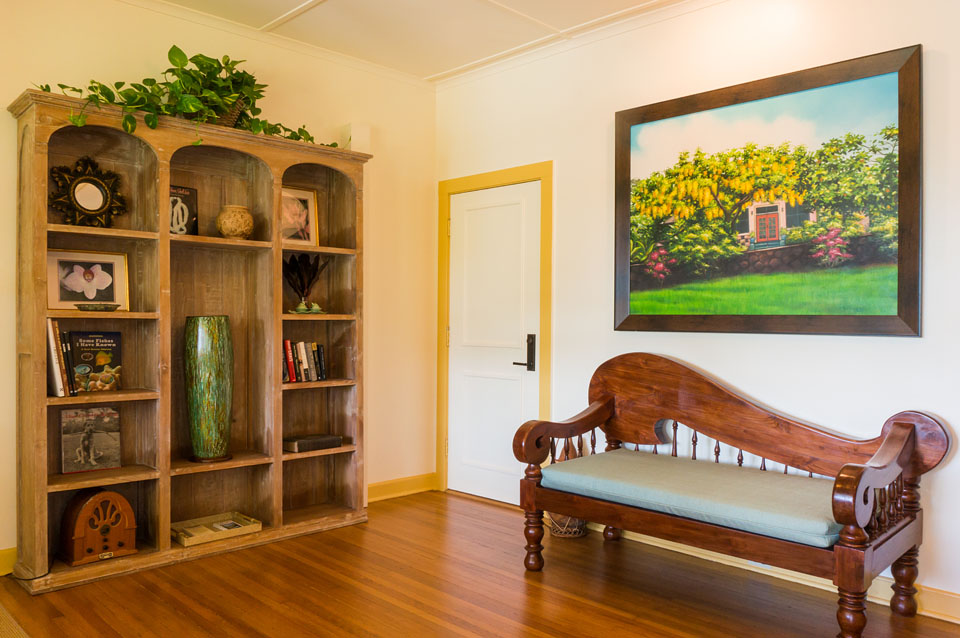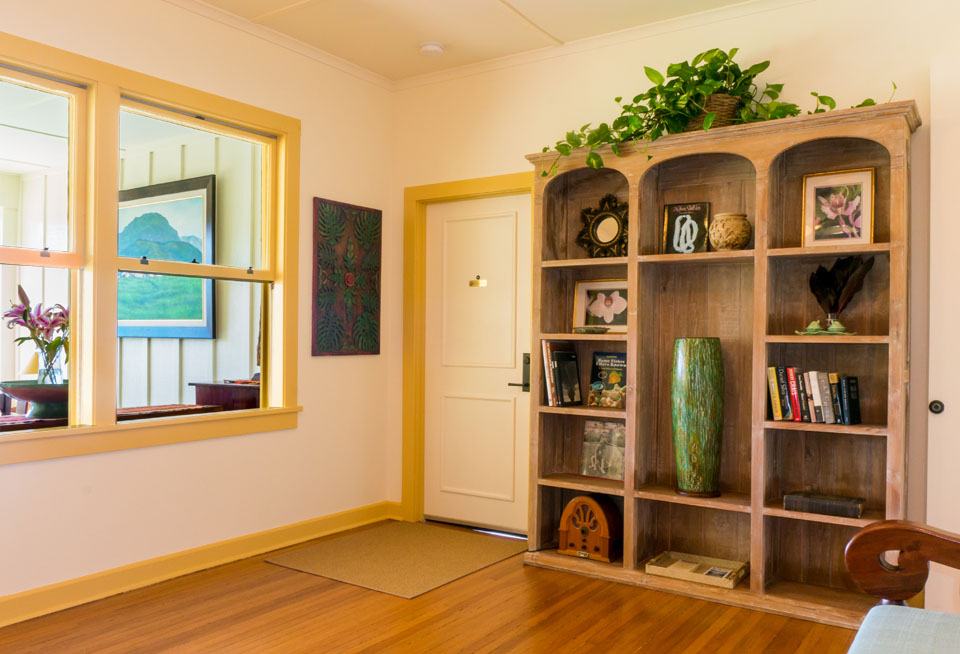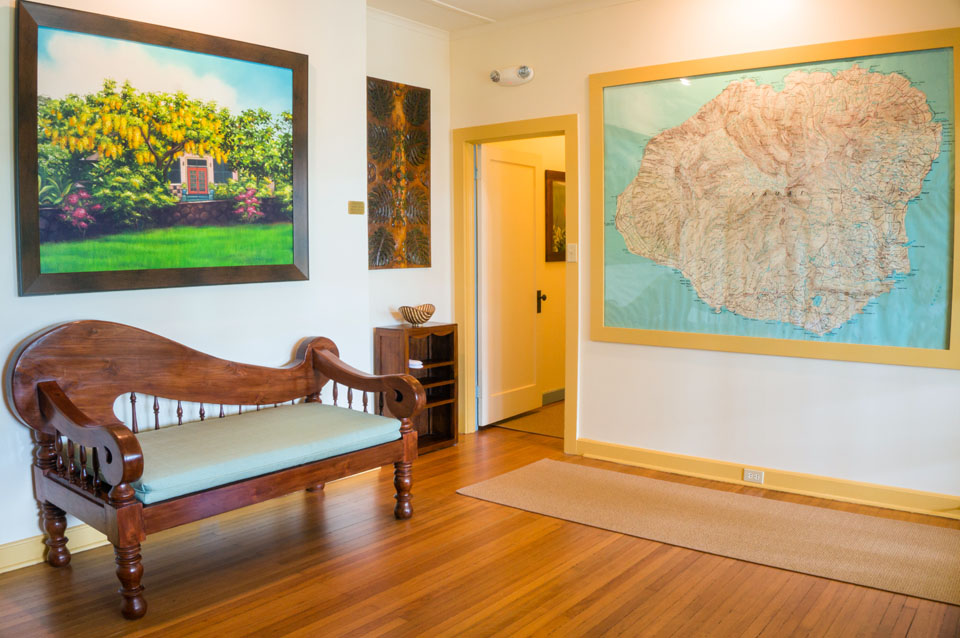 Common Areas
Common areas of the plantation home offer additional seating in the screened living room and dining area with some ocean views, tables and chairs and a small library for guest enjoyment. All interiors are non-smoking. In the island traditions, bedroom areas are suggested no shoes and slippers are provided. There are no cooking facilities for guests of the Inn, but take out is welcome in the dining area.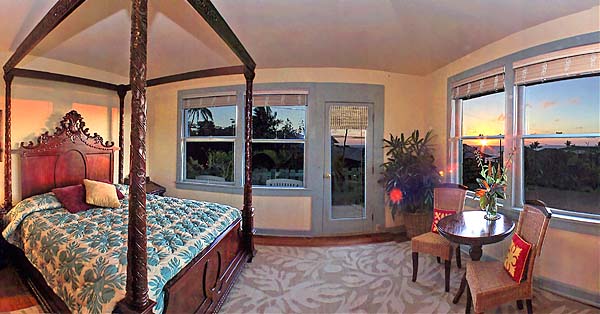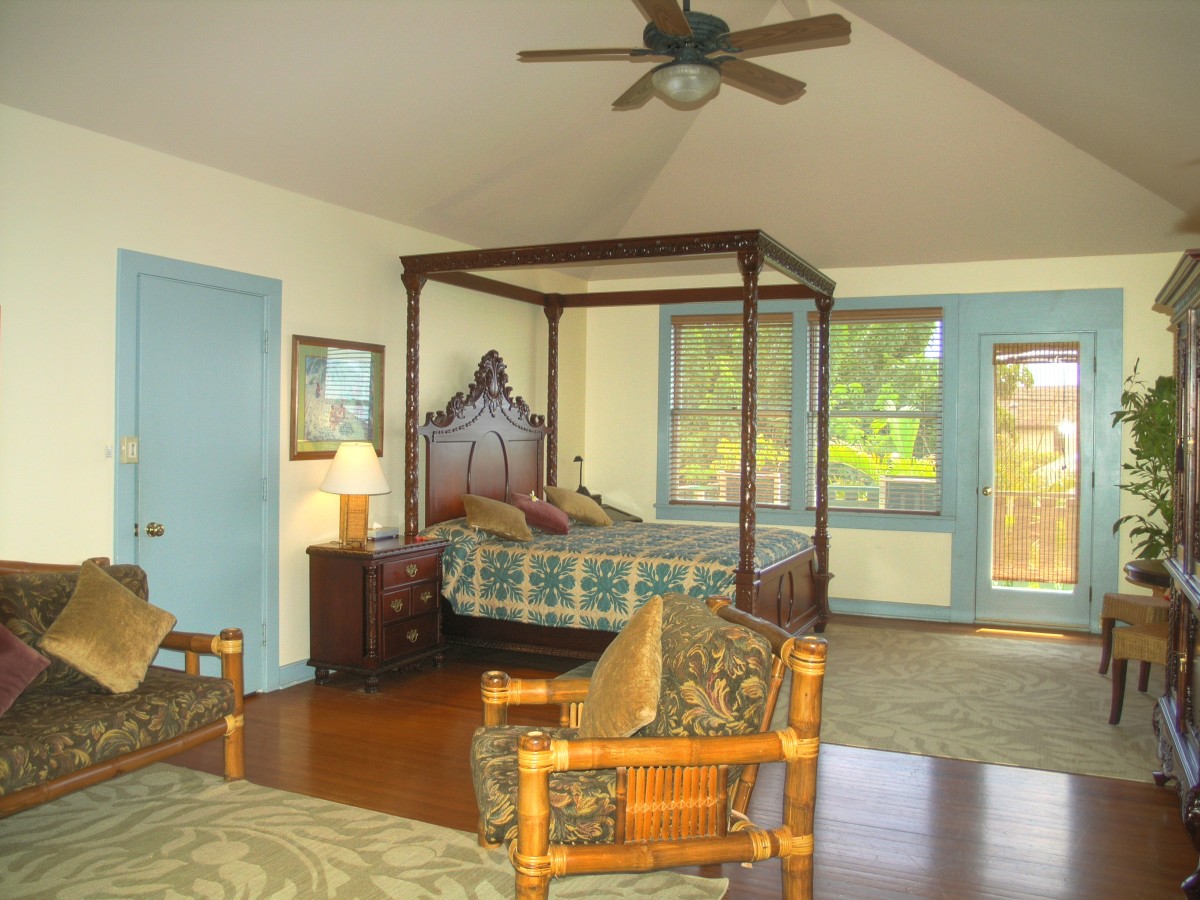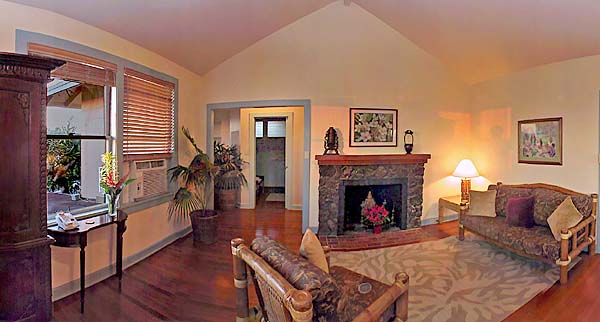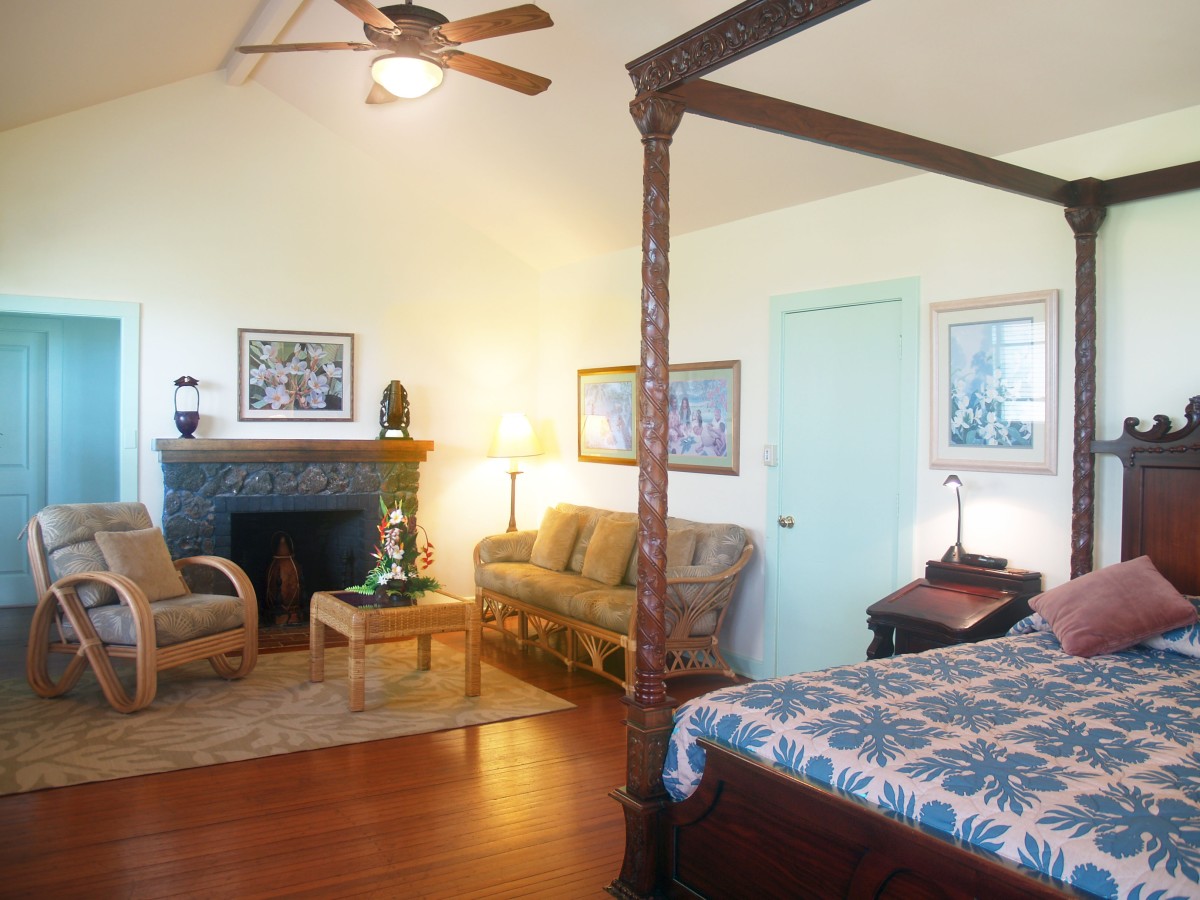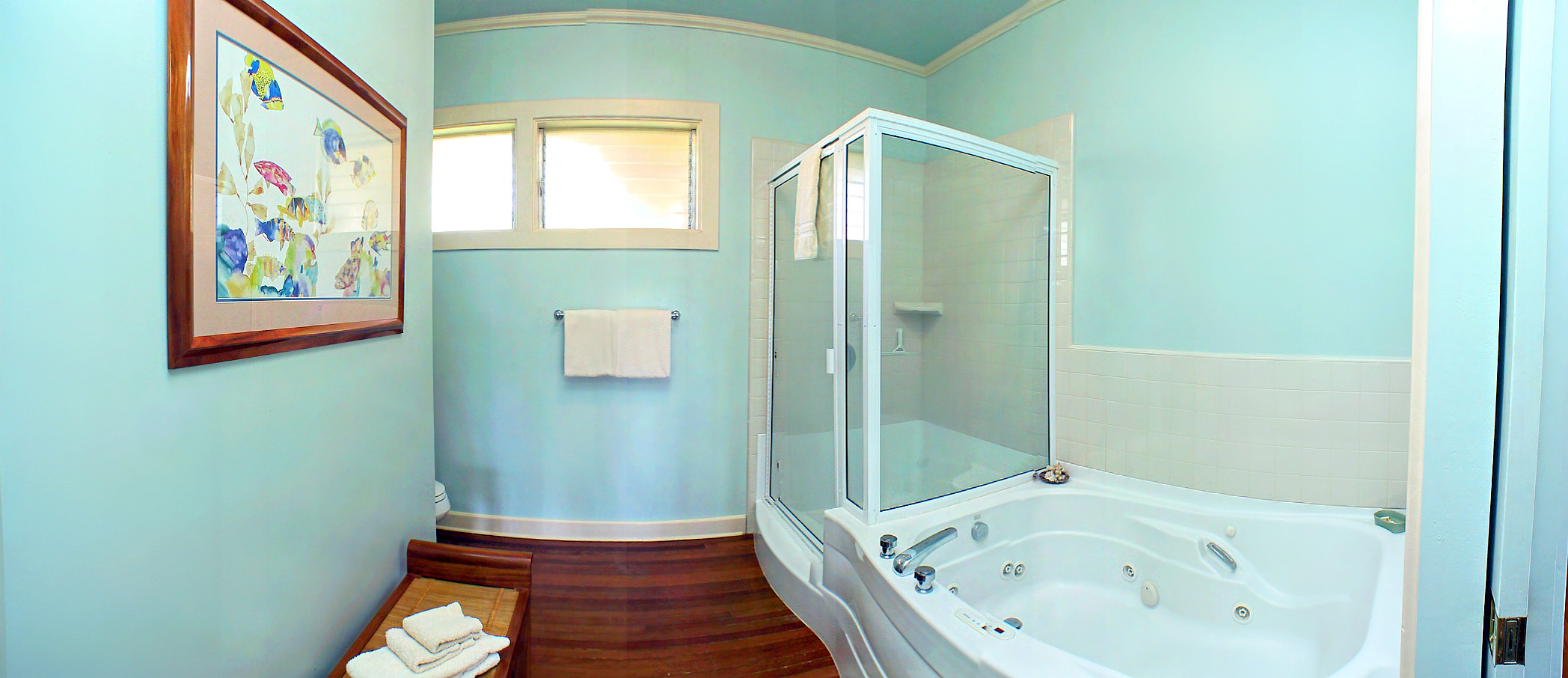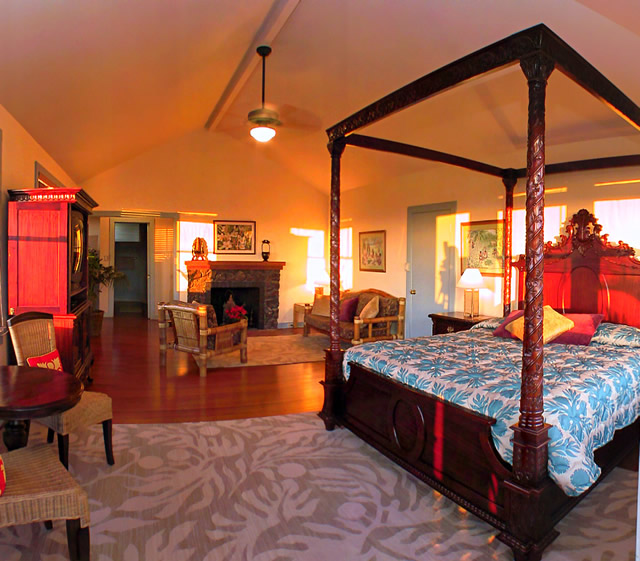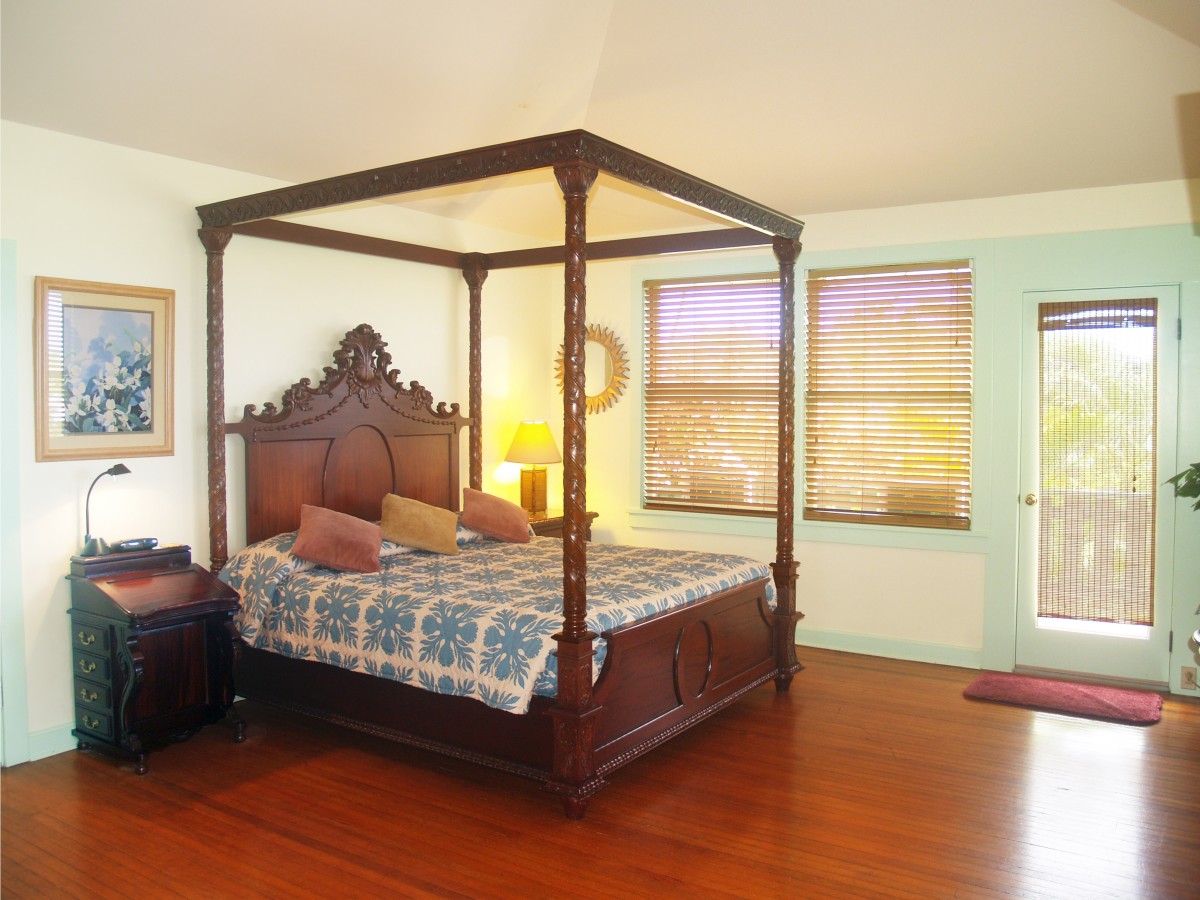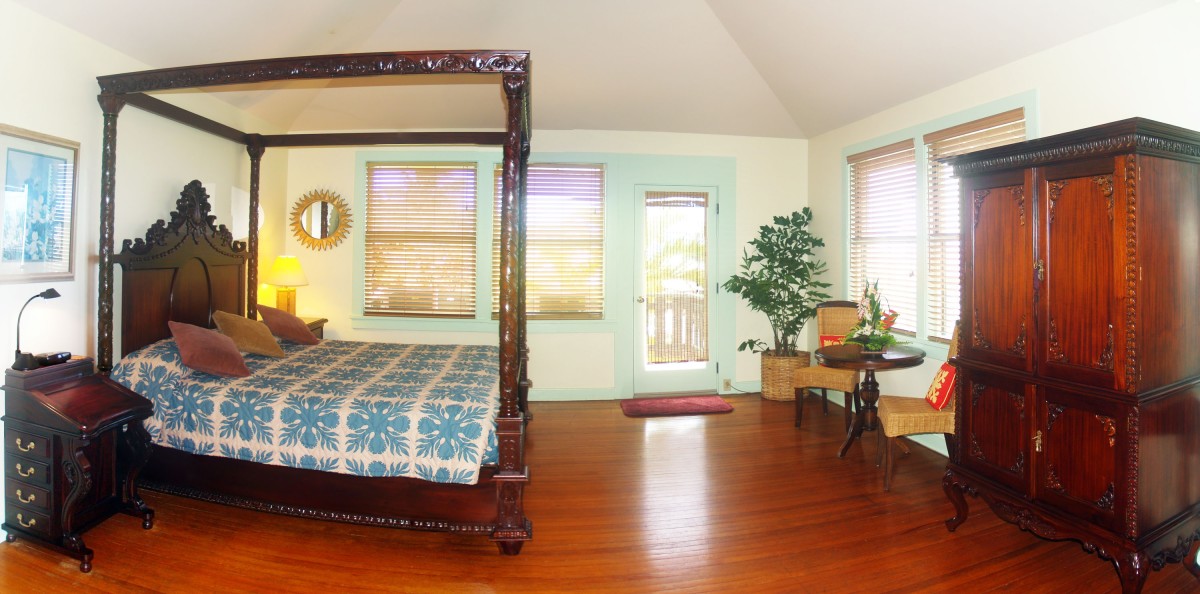 Ali'i Suite
The Ali'i Suite is the most special with over 700 square feet of old Hawaii style. It boasts a hand carved four poster King bed, wood floors with rugs, high ceiling, sitting area around a Lava fireplace, spacious dressing and bath area with two person whirlpool tub, wet bar, quiet air conditioning, large TV, free island phone & wireless router with many other features. You will enjoy your own balcony to see the sunsets, bright stars and a peek of the ocean. Housekeeping will service your suite daily and breakfast is included from 8 to 9AM daily. $205 to $300 per night depending on number of consecutive nights.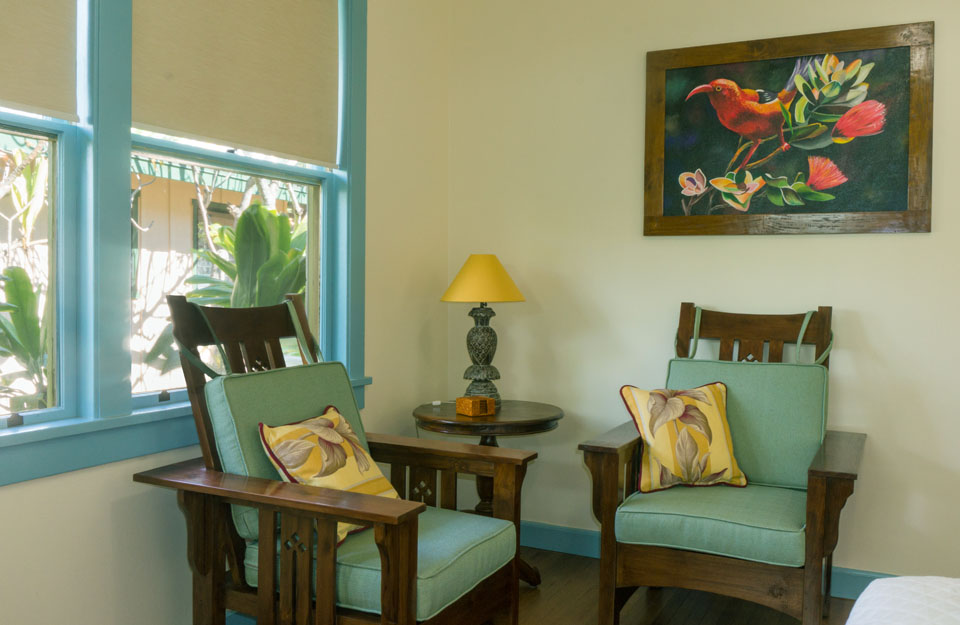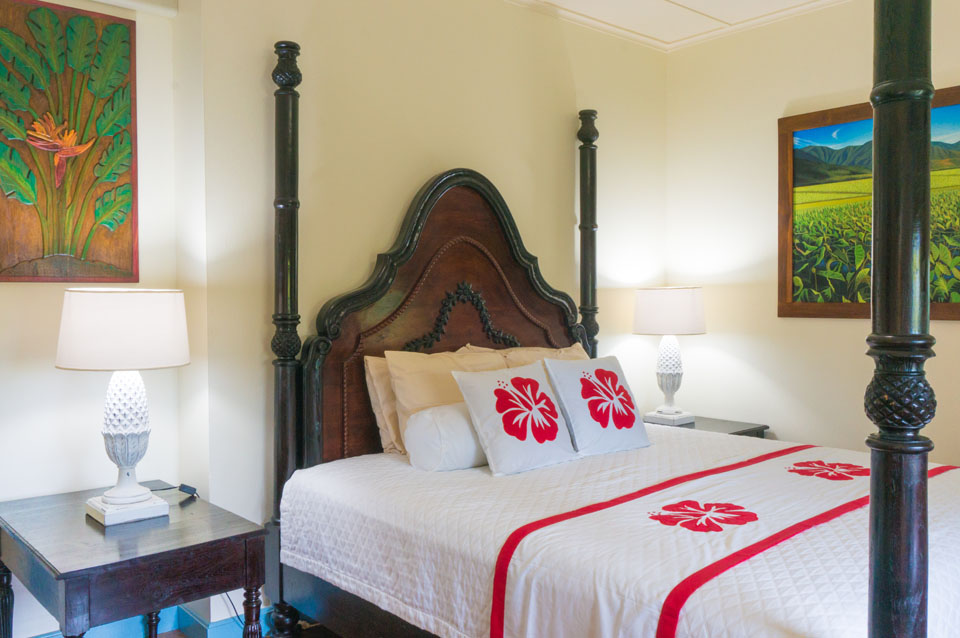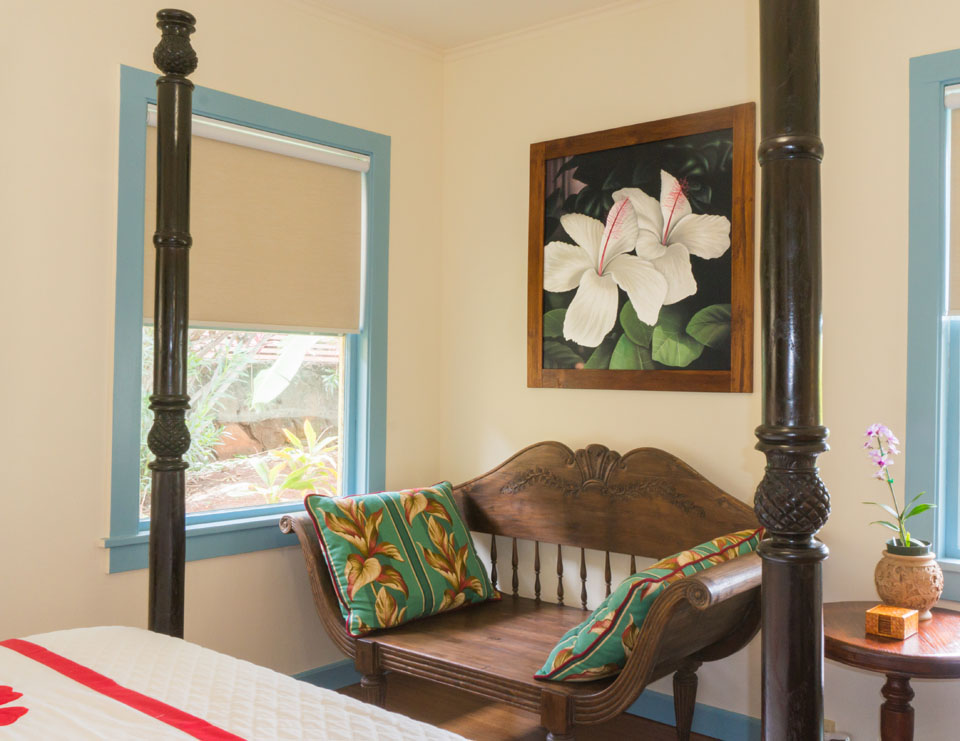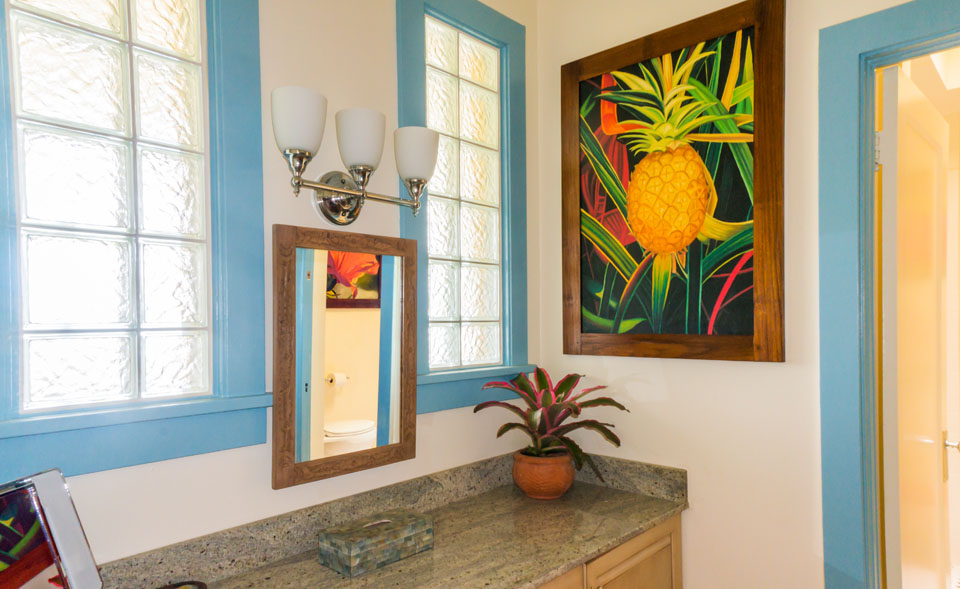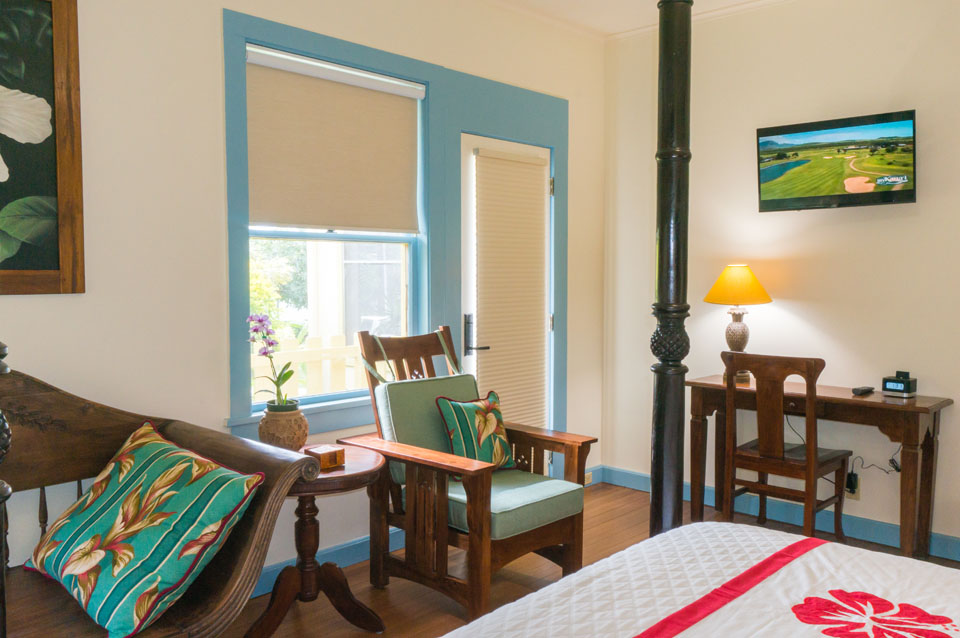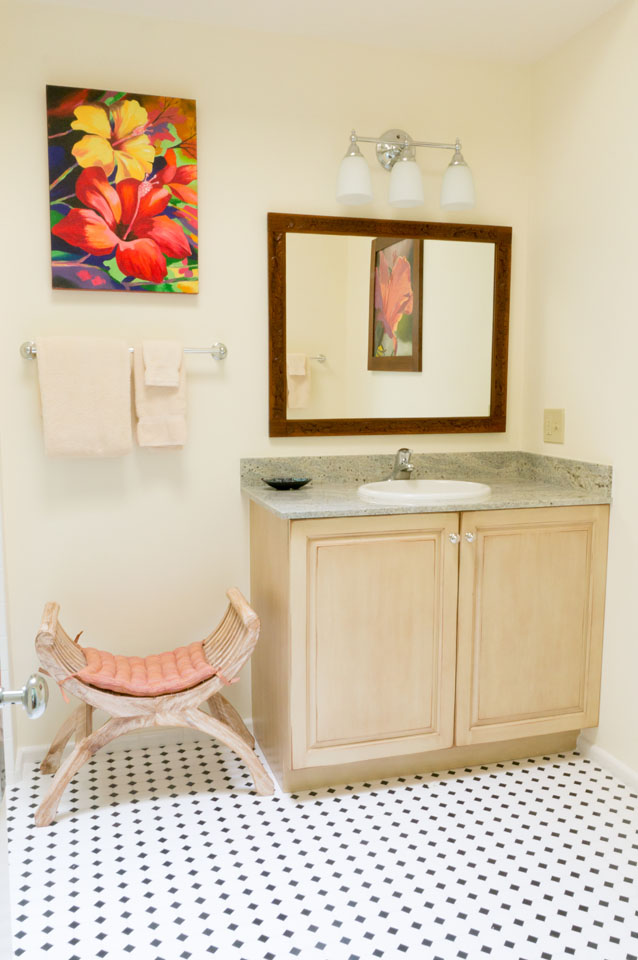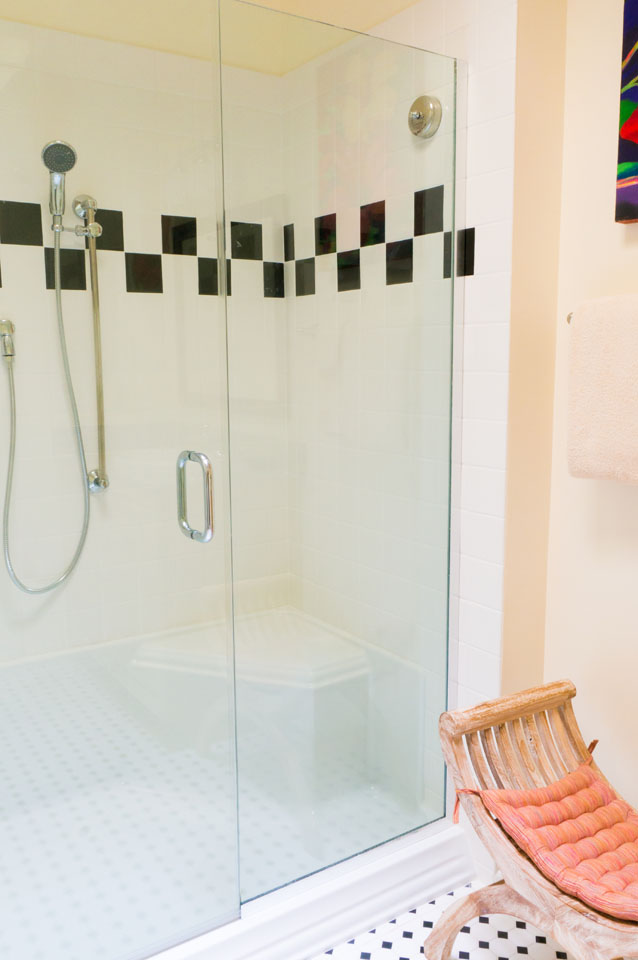 Maile Suite
This is the home's original Master Bedroom with a spacious King bedroom with sitting area, desk, four poster carved bed, dressing room, a full bathroom with large luxurious shower. a private balcony includes chairs for those reading or star gazing moments. The suite also includes a small refrigerator that we keep stocked with juice and water, flat screen TV, wireless router, quiet air conditioning, fans, hardwood furnishings, hardwood floors and wonderful Kauai subject art pieces. Housekeeping will service your suite daily and breakfast is included from 8 to 9AM daily. $190 to $250 per night depends on number of consecutive nights and time of year.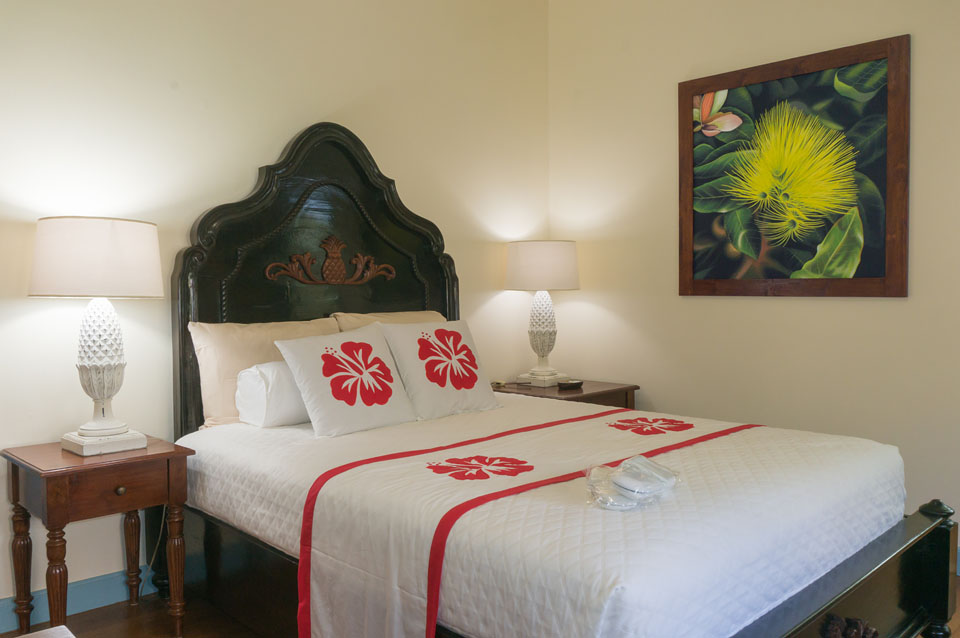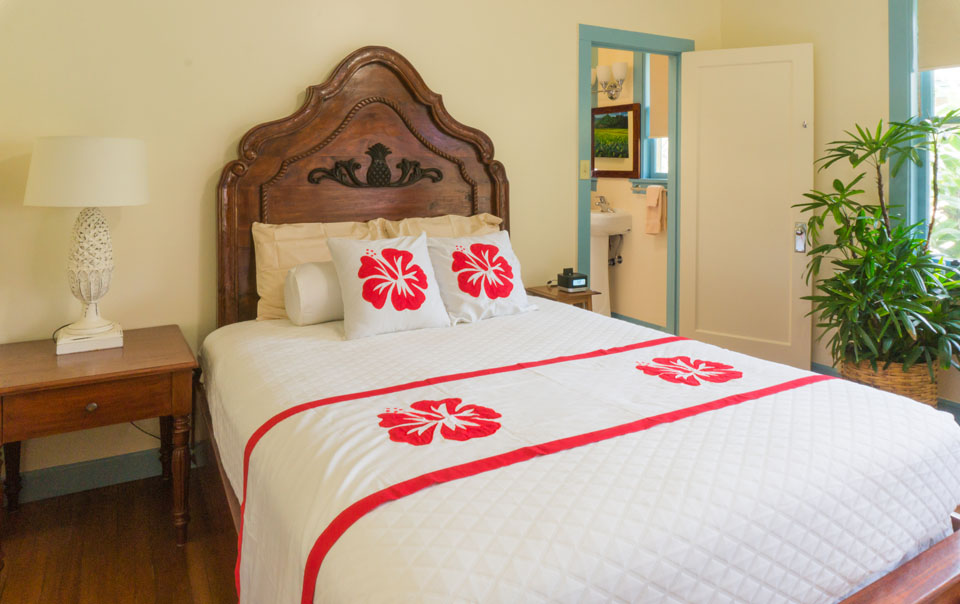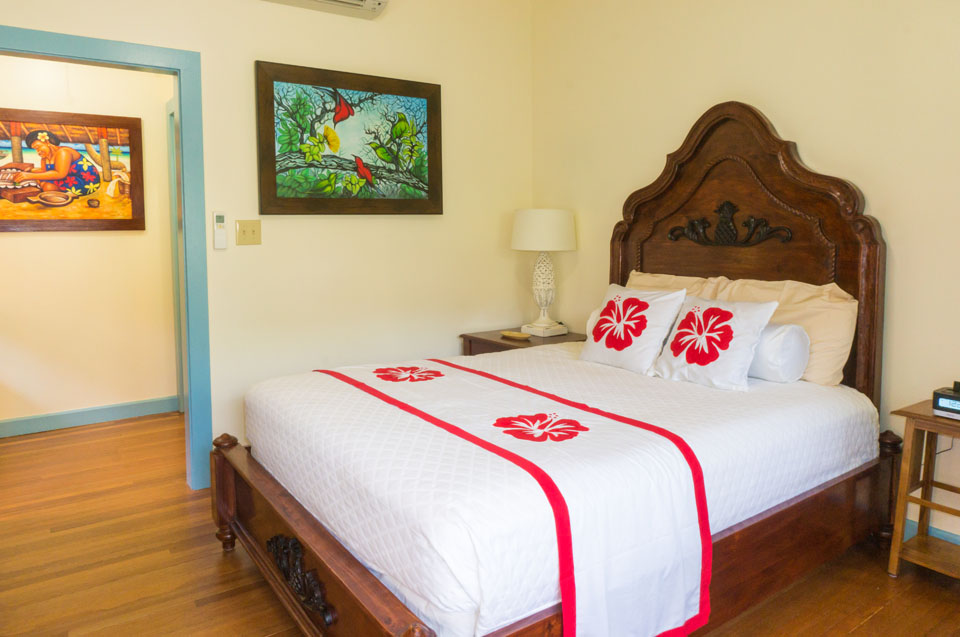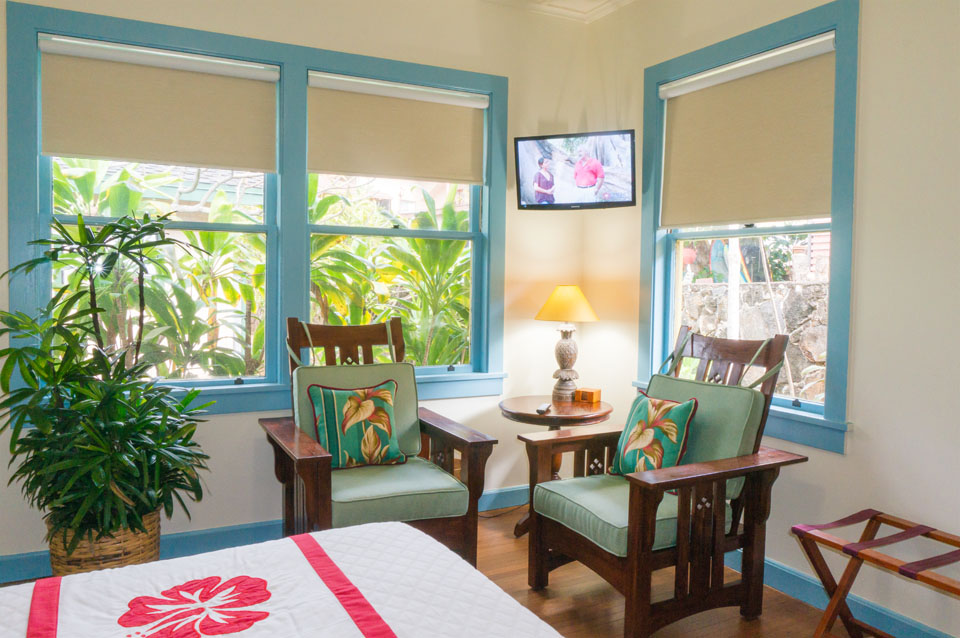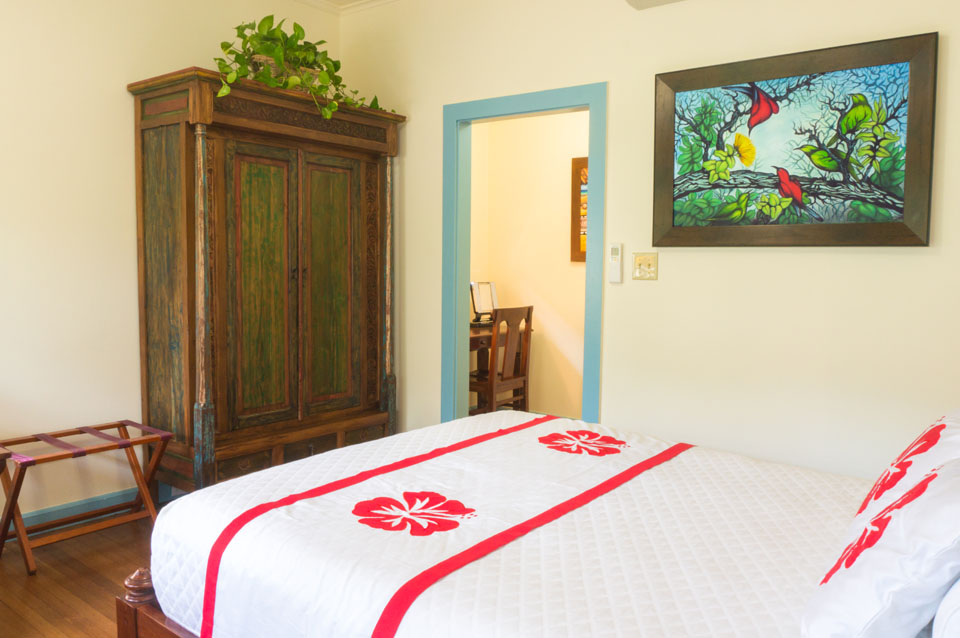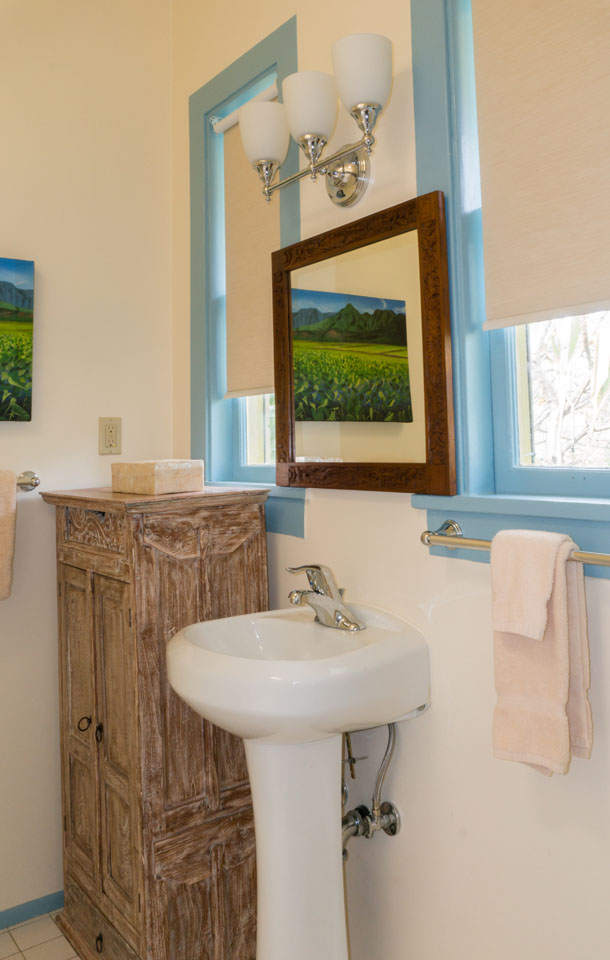 Garden Bedroom Suites
The two Garden suites are bedroom size with carved hardwood Queen beds, desk and hardwood seating, private bathroom with shower, flat screen TV, wireless router, quiet air conditioning, ceiling fan, hardwood floors and wonderful Kauai subject art pieces. Guests of these suites have use of a shared refrigerator and free island phone located in the common areas of the house. Green views outside of several windows. Housekeeping will service your suite daily and breakfast is included from 8 to 9AM daily. Rates $165 to $200 depends on number of consecutive nights and time of year.
We also Offer Vacation Rental Accommodations
Poipu Plantation Resort property also offers affordable cottage style vacation rental suites. All of our vacation rental condos are equipped with a full kitchen, a/c, spacious deck and many other features. Please check our main website for more information.
Compare Our Rates and Suites
Ali'i Royal Suite
Maile Suite
Garden Suites
Standard Rates
$250*
$210*
$175
Housekeeping Services[/one_fourth]
Out-cleaning, daily freshen towels included for all Inn suites
Views
PO,S
G
G
Shower, Tub, Whirlpool
Whirlpool, Tub, Shower
Custom Shower
Shower
Bedding
King 4 poster
King 4 poster
Queen Carved bed
Large Deck or Lanai
Private Lanai
Private Lanai
n/a
Kitchen
Wet Bar
Fridge
Common Fridge
Full Breakfast 8 – 9AM
Included
Included
Included
Free In-Room Safe
Yes
Yes
Yes
Wireless Internet
Yes
Yes
Yes
Ceiling Fans
Yes
Yes
Yes
 Notes:
All suites are single level units
All suites feature quiet, efficient split air conditioning systems
Free island phone in common area
Coin operated laundry facilities
Beach towels, chairs, hiking books, concierge service included
View Key:  S=Sunsets PO=Partial Ocean G=Garden
There are no cooking facilities for guests  – consume food or drink in common areas.
Our Inn Menu
The morning fare begins with fresh ground Kauai Estate Roast coffee, tea selection, Island fruit juice, and fresh Kaua'i island fruit.
Apple Banana & Macademia Nut Pancakes
Blended with Kaua'i Sweet Apple Bananas and topped with chopped Big Island Macademia Nuts served with Local and Maple syrups.
Island Style Eggs, Rice, & Sausage
Fresh Scrambled Eggs from Kaua'i Medeiros Farms, vegi fried rice, Sun-Dried Tomato Garlic Sausage, Toast or Roll with Local jam or jelly
Javed's Own Herb Potatoes
Cubed and cooked with Fresh Herbs, Kaua'i Sea Salt, Colorful array of peppers with an aroma that fills the house. Served with our Scrambled Eggs, Multi-grained toast with Local jam or jelly
Omelet Daze
Fresh Eggs from Kaua'i Medeiros Farms and Ghee make for a yummy foundation. If Chef is Zorba that day, look for Fresh Spinach and Mushrooms, Black Olives, Feta with red sauce to top! and for the Vegged out daze, lots of colorful fresh vegetables from our farmers and friends!
Punalu'u Guava Bread French Toast
Guava Sweet Bread is flown in from Punalu'u Bakery on the Big Island and sliced thick in our kitchen. Dipped in seasoned egg batter and cooked to perfection, sprinkled with powdered sugar.
Kaua'i Fruit and Rolls
A wildly colorful plate of island fruits is served with the ever edible Hard-Boiled Egg and Hot Out of the Oven, Fresh Gourmet Rolls in select flavorings! Best of the season may include Kaua'i Sunrise Papaya, Sugar Loaf Pineapple, Apple Bananas, Star Fruit, Mountain Apple, Rambutan, Lychee, Moya, Watermelon, Kula Strawberries, and more!
Chef starts preparing breakfast early so if you're going to miss us or want starters only, please let our office the day before or leave a note on the table by 7 am.
Menu items may change at any time. Toast and fruits may be substituted with advanced notice.
Reservations & Policies
Aloha Guests! It is our goal that you arrive here on Kauai at the Poipu Plantation and are happy with your selection of accommodations. Please ask questions, we are glad to help.
Please select your Suite carefully and review all information on our web site. Discuss or email any questions with our office staff to be sure you understand what you are reserving and the views, location, facilities, amenities and services that are included. We respond as quickly as possible to questions and requests.
Contact us. All requests will be answered 7 days a week, no longer than 24 hours.
Telephone. 1-808-742-6757 toll free 1-800-634-0263 – Mon to Fri 8 to 3, weekends to noon. HST . Email us for availability. Please include Dates, #Adults, #nights, accommodation preferences and any other requests you might have.
Making a reservation
You may book online using the form above or request availability information or submit reservation details via our request and payment page, (requests are answered during business hours and at least within 24 hours). 50% deposit confirms most reservations. We will provide an authorization form for your approval prior to any card charges. Or call us: Toll Free 1 (800) 634-0263 (US and CA) or 1-808-742-6757 Hawaii Standard Time 8 to 3 Monday to Friday, 8 to noon weekends & holidays. We are glad to Courtesy Hold space a few days while you continue to compare and while you arrange your flights. Most reservations are then confirmed with a 50% advanced deposit.
Cancellation, Change, & Payment Policy
A deposit of 50% will confirm a standard reservation. Visa, Master, Discover Cards and US Checks are accepted. Our office will email you again for your review and approval.
Standard reservation cancellation policy:
Give us at least 2 months advanced notice, full refund, less a $40 administrative fee. Give us at least 30 day advanced notice, one half of the deposit is returned No refunds 29 or soomer days from the arrival date*
Addendum to above for Free Date Change reservations of the 2020 virus epidemic.
Your free date change is good for one year from Original arrival date. It is non transferable and non refundable. Seasonal minimum night rules apply for mid-December through April 30. Additional date change is allowed per the above time tables, less $40 fee. It expires one year from your original dates.
December / January Winter Holiday dates; 14+ nights, Groups:
Holiday is December 18 to January 4. Give us at least 6 month advanced notice, full refund, less a $40 administrative fee. Give us at least 4 months notice, one half of the deposit is returned, less $40. Full payment is required within 4 months of arrival and is not refundable*
Larger Group reservations:
Give us more than 6 months advanced notice, full refund, less a $40 administrative fee. Full balance of room and tax required within 6 months of arrival and is not refundable* Group policy may vary with dates and extent of property reserved.
Less than minimum requirement reservations
To be paid in full at time of making the reservation and are non-refundable within 3 months of arrival*
Policy Notes
*A non refundable payment may be returned if space is re-sold, less $40 fee. Contact the office for more detail. Less night changes are prorated based on above deadlines, plus a $40 administrative fee All other changes not covered above will be subject to a $40 administrative fee. After Arrival, there are no date adjustments offered. "No Show" will be charged full value of reservation. Any changes from the above policy must be approved in writing from the resort office Credit card payments for non payment of arrival balance or any damage charges are authorized without signature. Rates and policies are subject to change.
Accommodation Notes – FAQ
Check-in is 2 PM, Check-out is 11 AM. Feel free to come early, check-in at office and take towels to the beach. Inn suites are limited for up to 2 adult guests. Children welcome in Vacation Rentals. Guests are asked to turn off lights and air conditioning whenever leaving. Management will do so when guests forget. Oil generates 90% of Kauai electricity at this time. We strive to be environmentally conscientious using solar hot water, available bio-degradable products, recycling program and conservation of water and electricity. There are no charges for standard housekeeping as described / included with your accommodation. Guests are responsible for additional costs related to unusually messy suites or damage due to negligence to the furniture, fixtures or equipment. Towels may be changed daily, bed linens for longer stays. Please feel free to give us a call if you have any questions or concerns about any of the above
Kauai Activities Gallery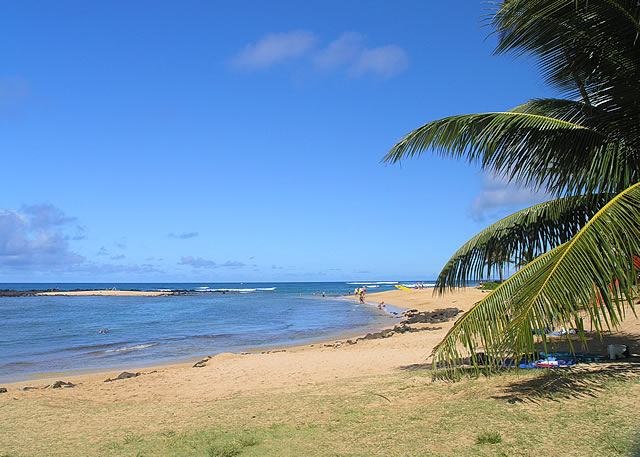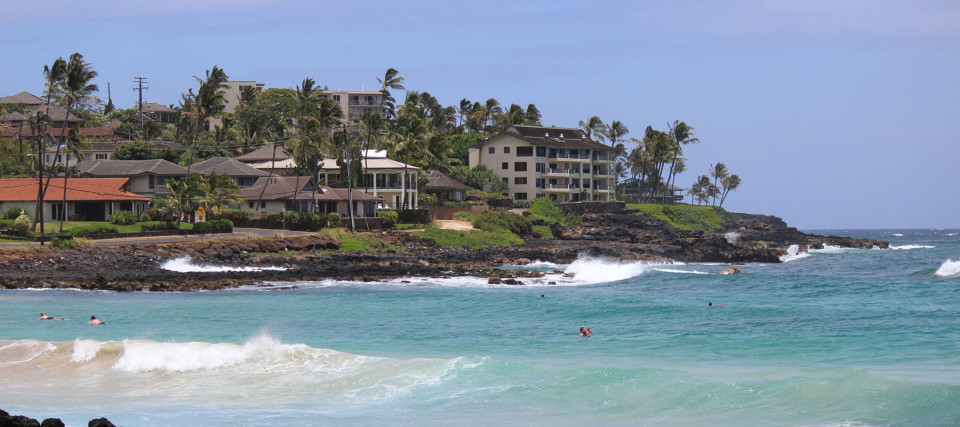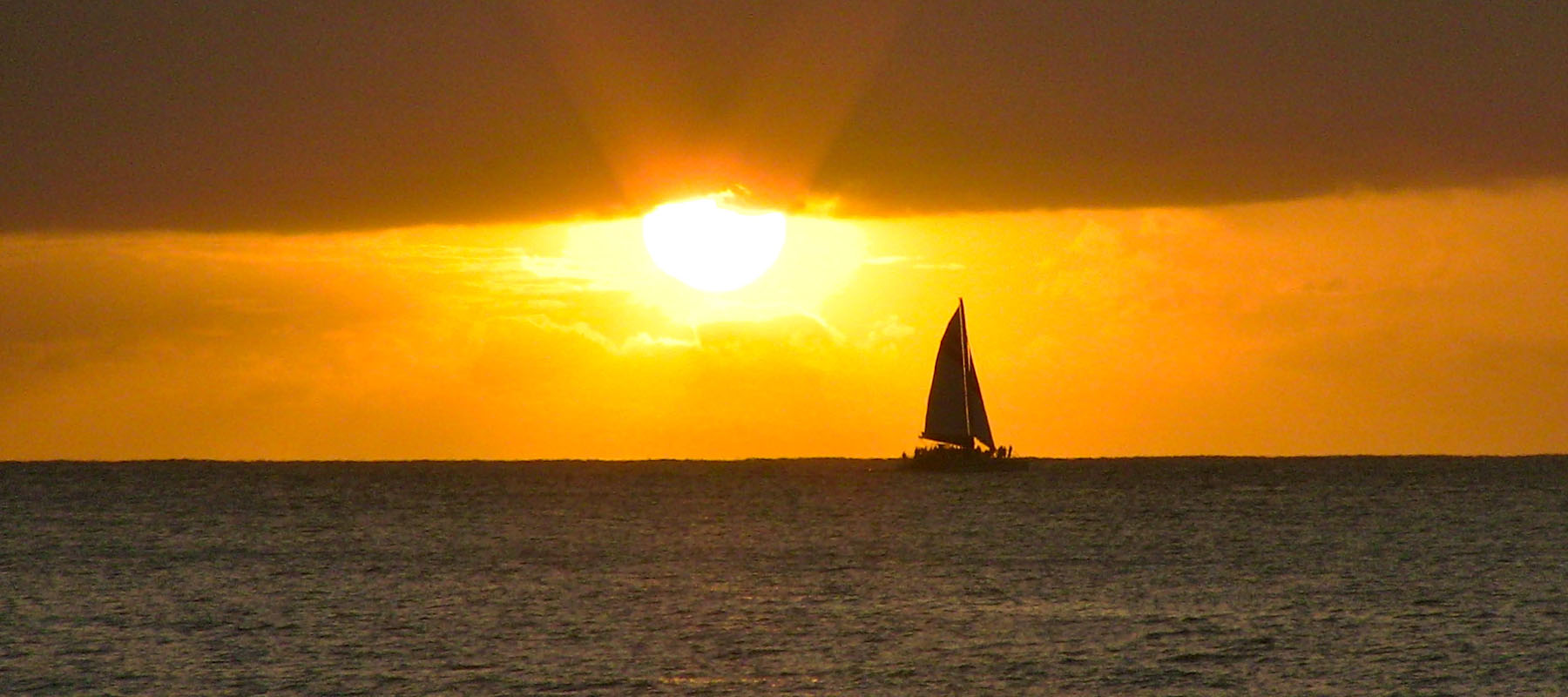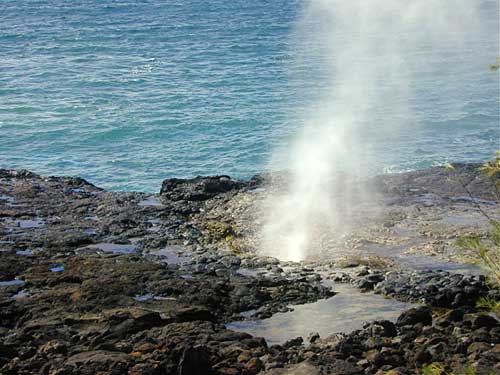 More About Our Great Location…
Take advantage of the many activities offered nearby. Deciding which beach to visit might be your most challenging task. There are swimming beaches, shelling beaches, sunset beaches, beaches with lots of activity, and beaches where you can be totally alone. Brennecke's Beach is just around our corner, steps away. Poipu Beach, also within walking distance, is perhaps the area's most popular spot, offering calm water swimming, good snorkeling, picnic tables, and outdoor showers. Beach towels, chairs, mats and coolers are in the office for your use at anytime!
Kauai Vacation Rental ID: 3003 | State of Hawaii Transient Accommodation Tax ID: ta 033815347201